InfReC Thermo FLEX F50 Series : Features
"Auto Point" Function – Make the temperature scale's setting more efficient
The setting and adjustment of temperature scale is the most difficult operation for beginners. With the new "Auto Point" function, even beginners can easily set the optimal temperature scale by touching the upper and lower limit temperature values intuitively.
Moreover, you can automatically adjust the upper limit temperature values which depends on the temperature change by "Auto-Maximum" function.
Auto Point "ON"
Touch the point you want to set as upper/lower limit temperature values
"Auto Point" setting can be optimized
"Sky Off" Function – "Auto-Scale" works optimally outdoors(Patent Pending)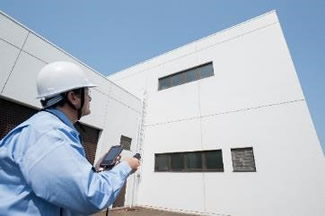 You can set the auto-scale's upper/lower values by ignoring the temperature of the above/below threshold values.
For instance, setting the auto-scale's values on the condition of "Ignore 5℃ or less" will mask the temperature of clouds or the sky.
It has been a major problem to get accurate measurements since the "auto-scale" setting outdoors pull the temperature readings of the sky or clouds.
"Sky Off" function solves this problem.
"Sky Off" OFF
"Sky Off" ON
"Burst Shooting" Function – Quick shooting for unstable places
Press and hold down "Shutter Button"
"Burst shooting" function can be used for quick shooting at unstable places where it is difficult to keep shooting at an angle or to keep your posture.
You can choose the best shot and take your time after quick burst shooting.
The images taken by "Burst shooting" are recorded at a maximum of 7.5Hz, and are recorded to an SD card in 10 seconds
(For "Online model" and "Standard model" only)
"Image Rotation" Function – Rotate the image every 90°
Rotate 180°
"Image Rotation" function rotates the image of screen every 90° to correct the orientation of images that are rotated due to the orientation of camera.
Accurate measurement is possible for the camera-head to turn around pipes and narrow spaces stably while checking the rotating image.
"Composite Visible Image" Function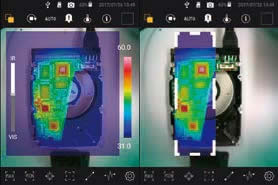 The controller can adjust the transmission of thermal image and visible image on the screen with a slide gauge and can trim the thermal image of Picture-in-Picture freely.
"Alarm" Function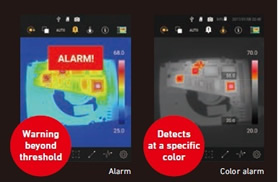 An alarm notifies the user by voice and message when the camera detects the temperature is above or below the threshold values.
Moreover, "Color Alarm Function" is also equipped for highlighting specific temperature areas.
The New "Trend Graph" Function – Automatically create trend graph without a PC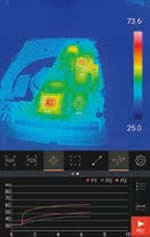 The controller can create a trend graph for recording changes in temperature with lapse of time. The controller can capture the changes of temperature without connecting to a PC. The time needed for analysis is drastically reduced.
The trend graph can be transferred to a PC, and instantly displaced on Excel®. ("Online Model" and "Standard Model" only)
"Line Profile" function is also equipped with the ability to graph the temperature gradients.
*Microsoft®, Windows®, Word® and Excel® are trademarks of Microsoft Corporation in the U.S. and other countries.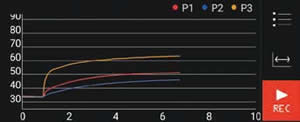 Real-Time Analysis is possible by connecting to a PC
The thermal movie data for analysis is transferred simultaneously to a PC at maximum 7.5Hz via USB2.0. The movie file with temperature data (SVX) or the still image file with temperature data (JPEG) can be recorded to a PC.
On-line Analysis is possible with the optional software "InReC Analyzer NS9500 Professional"
("Online Model" only)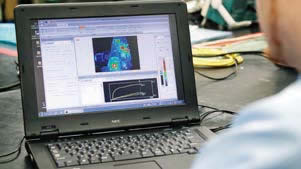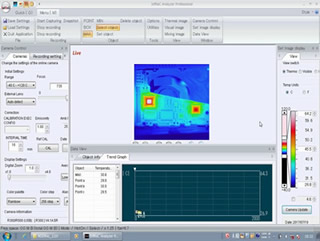 • Specifications and outline on this page are subject to change without notice for improvement.
• Company names and commodity names are trade names or registered trademarks of each company.
• Nippon Avionics Co., Ltd. will not be responsible for any damage of infrared detectors due to incoming strong light (e.g. laser) through lens(es).
• This product is subject to Japanese Export Control Law. Depending on its destination, prior assessment and authorization may be required. When exporting from country of initial purchase destination, please be sure to follow that country's export regulations as it may require an export permit beforehand.
---
Catalogs
InfReC F50 Series (Thermo FLEX)
Thermal Imaging Camera "Thermo FLEX F50"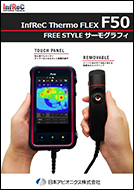 Factory / plant solutions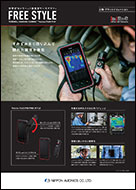 Research and development solutions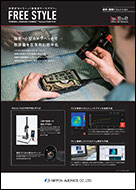 ---
Ito Group Holdings Pte. Ltd.
TEL: +65-6200-3217
Ito Corporation (Japan)
TEL: +81-3-3668-3222