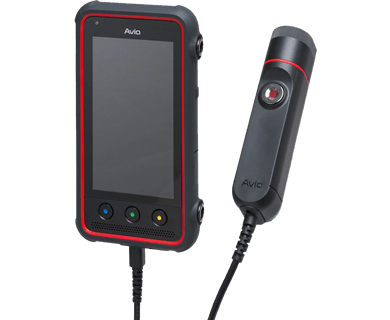 InfReC Thermo FLEX F50
"Free Style" thermal imaging camera offers various measurement styles!
---
▼Specifications
InfReC Thermo FLEX F50 Series
Basic model
(with main basic functions)
Standard model
Online model
F50A-BAS
F50B-BAS
F50A-STD
F50B-STD
F50A-ONL
F50B-ONL
Basic Performance
Field of View *1
35°×35°
70°×70°
35°×35°
70°×70°
35°×35°
70°×70°
Spatial Resolution
2.8mrad
5.3mrad
2.8mrad
5.3mrad
2.8mrad
5.3mrad
Focal Distance
30cm to infinity *2
10cm to infinity *3
30cm to infinity *2
10cm to infinity *3
30cm to infinity *2
10cm to infinity *3
Focus
Focus Free
Infrared Detector
Uncooled Focal Plane Array (Microbolometer)
Spectral Range
8~14μm
Recording Pixels
240 (H) ×240 (V) pixels
Frame Rate
7.5Hz
Measuring Range
-20℃~350℃ *4
Sensitivity (NETD)
0.05℃ at 30℃
Accuracy
±2℃ or ±2% (Indicated Value) *5
Image Display
Auto Function
Auto Scale / Auto MAX / Auto point
Color Pallets
7 pallets (Olive, Rainbow, Brightness, Hot-white, Hot-black, etc.)
Gradation
256 / 128 / 64 / 16 grade
Visible Camera
CMOS camera 5M pixels
Visible / Thermal Fusion
Picture-in-Picture (with trimming function), Blending (transparency changeable, size & position adjustable)
Display Functions
1 to 4 times continuous digital zoom (Thermal, Visible, Fusion)
Measuring Functions
Alarm Function
Alarm Display, Alarm Sound, Color Alarm, Alarm Recording
Temperature Correction
Emissivity (Full image, Multi-point), Environmental/Background, Emissivity Table
Point Temperature
5 Movable Points, Temperature Search: MAX/MIN x1 each
Temperature Display in Assigned Region
N/A
BOX x 1 (MAX, MIN and AVG in Box)
Line Profile
N/A
Line x 1
Delta Temp
N/A
Delta T x 1
Storage & Output
Storage Device
micro-SD Card, Conforms to SDHC
Data Storage
Data Form
Still Image : JPEG with temperature data (14 bit) Recorded with, Visible Image
Continuous Recording
N/A
Max 7.5Hz (Up to 10 sec.)
Interval Recording
N/A
3 sec to 60 min interval, with Visible Image recorded
Trend Graph
N/A
CSV format
Line Profile
N/A
CSV format
Voice Recording
30 sec Recording, replay per a Thermal image
Text Annotation
Annotate up to 128 Characters per a Thermal Image. Characters imported from SD Card
Interface
File Transfer
USB2.0 (MTP)
Real Time Transfer
N/A
USB2.0
Image transfer (Thermal Image with visible image. Maximum transfer speed 7.5 Hz) *6
Others
Display
4.8 inch HD (720 x 1280 pixels), Touch Panel
Auxiliary
LED Light (equipped Camera-Head)
Environment
Operating Temperature & Humidity
Camera-Head: -20℃ to 70℃, 90%RH (non-condensing)*7
Controller    : -20℃ to 50℃, 90%RH (non-condensing)
Storage Temperature & Humidity
Camera-Head: -40℃ to 60℃、90%RH (non-condensing)
Controller    : -40℃ to 60℃, 90%RH (non-condensing)
Drop, Vibration & Shock
Engineered to withstand 1m drop, 29.4m/s2 (3G), 294m/s2 (30G)
Dust & splash proof
Protection class IP64 equivalent
EMC
Conforms to CE regulations (Class A)
Power Supply
Battery
Lithium-ion (built-in) ,Battery Operation: 4 hours (Typ.) (with power saving mode)
AC Adapter
100V – 240V AC, 50 / 60Hz (AC Adapter by USB cable, micro B connector)
Dimensions
Camera-Head: Approx. 30mm×40mm×130mm (excluding projection and cable)
Controller    : Approx. 169mm (H) x 92mm (W) × 24.5mm (D) (excluding projection and cable)
Weight
Camera-Head : Approx. 100g
Controller     : Approx. 400g (excluding cable)
Accessory
Carrying case, micro SD Card, micro SD Card Adapter, USB AC Adapter, micro USB cable (for power feeding and connection), Neck Strap, Operation Manual, Software(NS9500LT)
*1 Tolerance : ±5%
*2 For temperature accuracy : 100cm to infinity
*3 For temperature accuracy : 30cm to infinity
*4 Environment temperature of camera unit in operation: 15℃ or higher (in case of lower than 15℃: Measuring Range in -20℃ to 300℃ )
*5 Environment temperature of camera unit in operation: 0℃ to 40℃ (other conditions: ±4℃ or ±4%)
*6 To transfer Thermal motion image by F50A-ONL/F50B-ONL, it is required to upgrade to "InfReC Analyzer NS9500 Professional" (optional software)
*7 In case of camera head is used in an environment where the ambient temperature exceeds 60̊C, Visible Camera will be set "OFF" by  high temperature protection function.
Specifications and outline on this page are subject to change without notice for improvement.
Company names and commodity names are trade names or registered trademarks of each company.
Nippon Avionics Co., Ltd. will not be responsible for any damage of infrared detectors due to incoming strong light (e.g. laser) through lens(es).
This product is subject to Japanese Export Control Law. Depending on its destination, prior assessment and authorization may be required. When exporting from country of initial purchase destination, please be sure to follow that country's export regulations as it may require an export permit beforehand.
---
Catalogs
InfReC F50 Series (Thermo FLEX)
Thermal Imaging Camera "Thermo FLEX F50"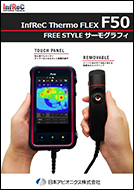 Factory / plant solutions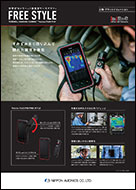 Research and development solutions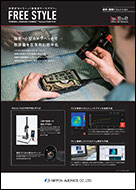 ---
Ito Group Holdings Pte. Ltd.
TEL: +65-6200-3217
Ito Corporation (Japan)
TEL: +81-3-3668-3222