Ito America Corporation supports Ito Group's partners in North, South and Central America. Our Micro-joining Applications Lab plays a key role in supporting Ito Group's worldwide efforts by performing advanced process development, debugging, and new technology research for anisotropic conductive film and paste applications, welding, soldering, and dispensing, making it the most comprehensive lab of its kind in the Americas.
We have a large technical team that supports our partners in the field in addition to what we do in our Lab, and our export group proudly sells Made in America products around the globe. At Ito America we know that the combination of American ingenuity and optimism is a powerful force in business. We embrace that inherently aggressive American nature and make it work for us through Ito Group's motto.
Do it. Do it right. Do it right now.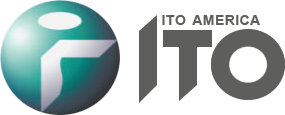 At Ito America Corporation we are proud of our long history and the reputation we have achieved. This history and reputation is best shown by the companies with which we partner and who have chosen to partner with us. Please understand that we do not share our customers' names.
Indium Corporation
Glastic Corporation
Musashi Engineering, Inc.
Nippon Avionics Co., Ltd.
Ohashi Engineering
Piercan USA, Inc.
Showa Denko Materials Company, Ltd.
Quality and the Environment
Ito Corporation, Ito America's parent company, is an active participant in both the ISO 9001 QMS standard and the KES Environmental Managenment Systemstandard. We believe that the two systems are complimentary and that reducing waste and increasing efficiency are integral to creating a sustainable business and living environment.
At this time Ito America is in the process of implementing an ISO 9001 QMS standard based on the system in place at our parent company. We hope to update this page with our final certification soon, but in the meantime please address any questions or concerns you have with product or service quality directly to us.
Ito America also participates in various charitable events to help create a better world for all of us. Want us to join yours, or to partner with your company in an event? Contact your local representative, turn the tables, and sell them the idea — You'll be surprised how open we are!