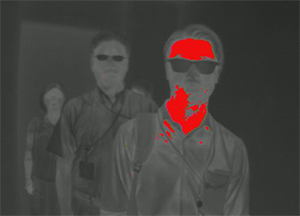 Infrared Thermal Imaging Cameras For Fever Screening

Nippon Avionics Co Ltd has a high quality range of IR cameras for fever screening. They measure skin (body surface) temperature of the human body in real time, and checks for fever. Fever screening can be linked to control of gate mechanism, etc.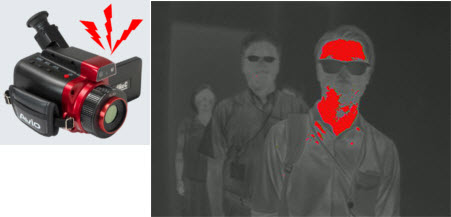 Fever monitoring at entrance of exhibition centre
An infrared thermography camera can measure temperature distribution of an area instantly without contact, display it as a thermal image, and allows you to trigger an alarm if an abnormal temperature is detected. Therefore, it is possible to select (screen) high fever among a large number of people, which is useful for early detection and early response, and is one of the means to control the spread of disease.
Body Temperature Screening of Fever(PDF:0.8MB)
---
Merits of Avio IR thermography
Safety and security by non-contact method
Realization of unmanned screening by real-time body surface temperature measurement.
The risk of infection due to personal contact can be reduced.
Visualization of heat generation at body surface temperature with two-dimensional surface distribution.
More reliable body surface temperature screening is possible by wider range of temperature measurement, compared to the one-point temperature measurement method.
Improve Deterrence, and Corporate Image
Displaying images of the body surface temperature distribution to the visitors (entrants) helps to keep persons with fever away from entering, and also helps to inform the general public of the company's high awareness of safety and health.
It is used for health and safety purposes; immigration entry points, hotels, medical institutions, public facilities, schools, kindergartens, theme parks, in food processing factories, data centers and general office areas, etc.
---
Recommended models


InfReC R550 SeriesInfReC R550 Series Catalog (PDF: 876kB)

InfReC R450 SeriesInfReC R450 Series Catalog (PDF:953KB)


Thermo FLEX F50 Series Catalog (PDF: 2.96MB)
---
[Reference data] List of global infectious diseases *
| Designated Year | Designated Infectious Diseases |
| --- | --- |
| 2003 | Severe Acute Respiratory Syndrome (SARS)** |
| 2006 | Bird Flue (H5N1)** |
| 2013 | Bird Flue (H7N9)** |
| 2014 | Middle East respiratory syndrome coronavirus(MERS)** |
| 2020 | Coronavirus Disease 2019 (COVID-19)** |
* Source: The National Institute of Infectious Diseases
** As of March, 2020. Class 2 infection
---
Specifications and outline on this page are subject to change without notice for improvement.
Company names and commodity names are trade names or registered trade marks of each company.
Nippon Avionics Co., Ltd. will not be responsible for any damage of infrared detectors due to incoming strong light (e.g. laser) through lens(es).
These products are subject to Japanese Export Control Law. Depending on its destination, prior assessment and authorization may be required. When exporting from country of initial purchase destination, please be sure to follow that country's export regulations as it may require an export permit beforehand.